Listed in Chronological Order of Publication (additional publications by the same author are listed with the oldest publication by that person)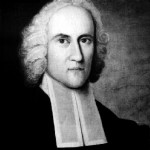 Jonathan Edwards 1703-1758
Case 7 shelf 2
  The Doctrine of Original Sin Defended. Worcester: Isaiah Thomas, 1757.
A Treatise Concerning Religious Affections. Boston, 1794.
The Life and Character of…Jonathan Edwards. Edinburgh, 1799. Extracts from his private writings and sermons.
A History of the Work of Redemption. Worcester: Whipple, 1808.
John Witherspoon 1722-1794
Case 1 shelf 3
Witherspoon signed the Declaration of Independence and later served as President of the College of New Jersey (= Princeton).
Sermons on Practical Subjects. 1768.
Practical Discourses on the Leading Truths of the Gospel. 1792.
 The Holy Bible as Printed by Robert Aitken and Approved and Recommended by the Congress of the United States of America in 1782. Facsimile. New York: American Bible Society, 1968. Donated by Edgar Krentz. Case 1 shelf 3
Westminster Confession. Scottish Reformed Church of North America. 1799. Case 1 shelf 3
Biblia. Vorrede by Gottlob Jungman. Reading, PA, 1805. First German Bible since the three editions of Christoph Sauer. Case 4 shelf 3
All the remaining items: Case 5 shelf 3
The Prophetic History of the Christian Religion. Volume 1. By J. George Schmucker. Baltimore: Schaeffer and Maund, 1816. John George Schmucker (1771-1854) helped found the General Synod and the Lutheran Theological Seminary at Gettysburg.
Die Prophetische Geschichte von den Siegen Christi und seiner Kirche. By J. George Schmucker. Baltimore: Zetzener, 1843.
Liturgy or Formulary for the Use of Evangelical Lutheran Churches. Compiled by a committee, appointed by the Synod of Ohio. Lancaster, OH: John Herman, 1830.
 S. S. Schmucker 1799-1873
Elements of Popular Theology. By S. S. Schmucker. 2nd edition. New York: Leavitt, Lord, and Co., 1834. The rare books collection also includes a 5th edition published in 1845.

Kurzgefasste Geschichte der Christlichen Kirche. By S. S. Schmucker. Gettysburg, 1834. There are also two additional copies.
Discourse in Commemoration of the Glorious Reformation of the Sixteenth Century. By S. S. Schmucker. Gould and Newman, 1838. There are also three additional copies.

The American Lutheran Church, Historically, Doctrinally, and Practically Delineated. By S. S. Schmucker. 2nd edition. Springfield: D. Harbaugh, 1851.There are also three additional copies.
 A Tract for the Times or Elemental Contrast betwee the Religion of Forms and of the Spirit.  By S. S. Schmucker. Gettysburg, 1852.
Lutheran Manual on Scriptural Principles. By S. S. Schmucker. Philadelphia: Lindsay & Blakiston, 1855.
A Commentary on the Epistle to the Romans. By Charles Hodge. Philadelphia: Grigg & Elliot, 1835. Charles Hodge, 1797-1878, was a professor at Princeton.
History of the American Lutheran Church…1685-1842. By Ernest L. Hazelius. Zanesville, 1846. Ernest Lewis Hazelius, 1777-1853, came to America in 1800. He was professor at the Gettysburg Lutheran Seminary from 1830-1833.
 The Swedish Church in America. Discourse Delivered before the Historical Society of the American Lutheran Church. May 18, 1848. By William M. Reynolds. Gettysburg: H. C. Neinstedt, 1849.
Definite Platform, Doctrinal and Disciplinarian, for Evangelical Lutheran District Synods. Philadelphia: Miller & Burlock, 1855. Also a second copy from 1856.
A Plea for the Augsburg Confession. By W. J. A. Mann. 3 copies.
Lutheranism in America: An Essay on the Present Condition of the Lutheran Church in the United States. By W. J. Mann.Philadelphia: Linday & Blakiston, 1857. Mann (1819-1892) was a theologian of the General Council. He was born in Stuttgart. 3 copies.
The Broken Platform: A Brief Defence of our Symbolical Books. By John N. Hoffman. Philadelphia: Linday & Glakiston, 1856.
Early History of the Lutheran Church in America. By C. W. Schaeffer. Philadephia: Lutheran Board of Publication, 1857.
Annals of the Swedes on the Delaware, from their First Settlement in 1636 to the Present Time. By Jehu Curtis Clay. 2nd editiion. Philadelphia, 1858.
Der Missourische Geist und die Lehre der Lutherischen Kirche. B J. A. A. Grabau. Buffalo, 1860. Grabau (1804-1879) was born near Magdeburg and was imprisoned twice for refusal to use the official church Agenda. He opposed its Reformed tendencies.
Die Evangelisch-Lutherische Kirche die wahre sichtbare Kirche Gottes auf Erden. By C. F. W. Walther. St. Louis, 1867.
Church-Forms for the Performance of Ministerial Acts. Philadelphia: Lutheran Book Store, 1872.
Woman in Sacred History. By Harriet Beecher Stowe. New York: Ford, 1874.
Das General-Konzel…Eröffnungsrede….October 16, 1884. Philipp Friedrich Adolph Theodor Spaeth (1839-1910) was President of the General Council from 1880-1888.
Nachrichten von den vereinigten Deutschen Gemeinen in Nord America, absonderlich in Pennsylvanien. 2 volumes. Halle, 1886 and 1895.
The Doctrinal Development of the Evangelical Lutheran Ministerium of the State of New York. An address by J. Nicum, 1887.
Conversion and Election. A Plea for a United Lutheranism in America. By F. Pieper. St. Louis: Concordia Publishing House, 1913.
ä  ü  ö