Medals and photographs contributed by the Rev. Frederick J. Schumacher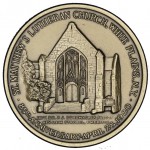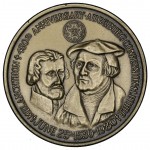 Obverse: St. Matthew's Lutheran Church, White Plains, N.Y. 85th anniversary April 28, 1980. Their pastor was the Rev. Frederick J. Schumacher.  Emeritus pastor C. F. W. Strobel. Reverse: Melanchthon. 450th Anniversary of Augsburg Confession. and Luther. Both reformers are under Luther rose. June 25th, 1530-1980. Sculptor: Gladys Gunzer. 25.17 gr; 37.8 mm. Brozatus #1633.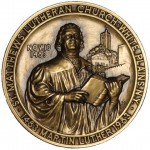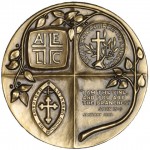 Obverse: St. Matthews Lutheran Church, White Plains, N.Y. 1483 Martin Luther 1983. Nov. 10. 1483. This commemorates the 500th anniversary of Luther's birth. Luther stands with an open Bible, with the Wartburg Castle behind his left shoulder. Luther was staying at this castle when he translated the New Testament from Greek into German. This image is based on an oil painting by Rutherford Boyd which at the time was in the headquarters of the Lutheran Church in America in Manhattan.
Reverse: Logos for Association of Evangelical Lutheran Churches, Lutheran Church in America, and American Lutheran Church. "I am the vine, and you are the branches." John 15:9. January 1988 (The date of the founding of the Evangelical Lutheran Church in America). Sketches of the model were done by John Leinung, and the modeling was done by Gladys Gunzer of the Medallic Art Company in Danbury CT. Bronze. Weight 91.3 gr; Height 57.9 mm; Width 57.3 mm. Literature: NY Times, November 21, 1982. Brozatus #202. Brozatus mistakenly identifies AELC American Evangelical Lutheran Church, a church body formed by Danish immigrants in 1878.He therefore thinks that 1988 refers to the 110th anniversary of this church body.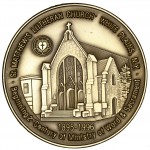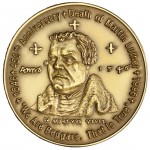 Obverse: St. Matthew's Lutheran Church, White Plains, N.Y. 1895-1996 Beginning 2nd century of ministry of word and sacrament. Their pastor was the Rev. Frederick J. Schumacher.
Reverse: 450th Anniversary of the Death of Martin Luther 1996. Anno 1546. Et mortuus vivit (He lives beyond his death–Philipp Melanchthon). Some of Luther's last words were: "We are beggars that is true." The picture of Luther is based on a drawing by Luther's student Reinfeinstein, made during Luther's last lecture in 1545. 57.5 gr; 51.2 mm. Brozatus #223, who mistakenly translates ministry as Herrschaft.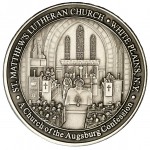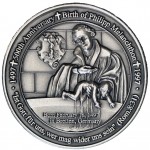 Obverse: St. Matthew's Lutheran Church, White Plains, N. Y. A church of the Augsburg Confession. Their pastor was the Rev. Frederick J. Schumacher.
Reverse: 1497 500th anniversary birth of Phillip Melanchthon 1997. Ist Gott für uns, wer mag wider uns sein." Rom 8:31. If God is for us, who can be against us? This is the personal motto of Melanchthon. Born February 16, 1497 in Bretten Germany. The picture of Melanchthon baptizing is based on a picture in the city church of Wittenberg. 55.53 gr; 51.2 mm. Brozatus #517.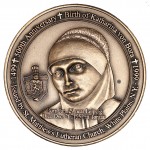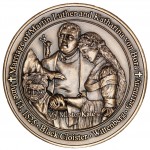 Obverse: 1499 500th anniversary of the Birth of Katharina von Bora in 1999. The image of Katharina von Bora is based on a 1528 painting by Lucas Cranach the Elder. To the left of her image is her family coat of arms. Born Jan. 29 near Leipzig. Died Dec. 20, 1552, in Torgau.
Reverse: Marriage of Martin Luther and Katharina von Bora. June 13, 1525. Black Cloister. Wittenberg, Germany. The words of Luther:  "My Master Kate." The image is based on a drawing of their wedding that appeared in the May, 1872, issue of Harper's Weekly. That image was modified by bringing the hand of Johannes Bugenhagen (1485-1558) and the crucifix closer to the couple. To the left of Luther is the image of his publishing trademark, the triumphant lamb.  Issued by St. Matthew's Lutheran Church, White Plains, N. Y. Their pastor was the Rev. Frederick J. Schumacher.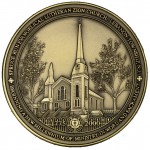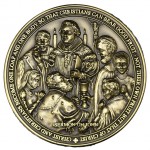 Obverse: Spruce Run Evangelical Lutheran Zion Church. Lebanon Township, N. J. 2000.Beginning a new millennium of ministry in word and sacrament. Neues Predigen und ein neues Sakramentsverständnis
Reverse: Christ and Christians become one loaf and one body so that Christians can bear good fruit, not their own fruit, but that of Christ. Sermon on John 15:5. M. L. Designed by Pastor Schumacher with Gary V. Ettlemyer, the pastor of the congregation. Initials FJS = Frederick J. Schumacher. 53.87 gr; 51 mm. Brozatus #1671.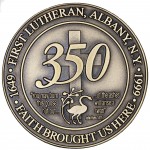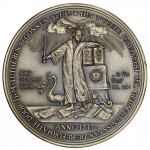 Obverse: First Lutheran, Albany, N. Y., 1649-1999. Faith brought us here. "You may burn this goose, but out of the ashes will arise a swan." John Huss 1415 (1371-1415). The focus on the swan and vine remains from the original congregational seal with the addition of a cross, the anniversary year, and the wording around the medal. In some countries a swan is placed on top of Lutheran church steeples.
Reverse: Het Tweede Iubelfest Ter Gedachteniss van de Reformatie Door D. M. Lutherus Begonnen Ao 1517 (The Second Jubilee in Remembrance of the Reformation which Dr. M. Luther started in the year of our Lord 1517). God's hand reaches out to place on Luther's head a crown of laurel (see 2 Tim 4:7-8; 1 Cor 9:24-25). Luther holds in his right hand a candle symbolizing Luther's restoring the light of the gospel. Newly discovered islands in the west 1541 (a quotation from Luther in Supputatio annorum mundi, Weimar Ausgabe 53, 169). Luther's left arm rests on the Bible, which is opened to Ps 119:19 (a mistake for v. 89). The reverse replicates one of the earliest Luther medals that marked the 200th anniversary in Amsterdam of Luther nailing the 95 theses to the Castle Church door in Wittenberg (See Brozatus #822). Brozatus #1669.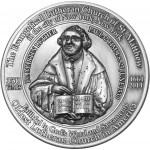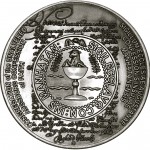 Medal celebrating the 350th anniversary of  St. Matthew Lutheran Church on the north end of Manhattan Island 1664-2014. The oldest Lutheran Church in the United States. Congregation of the Unaltered Augsburg Confession of Faith. Designed by Scott Blazek, Frederick J. Schumacher, and Peter Deebrah. Luther's garment on the obverse is from the 17th century. The reverse shows the lamb of God above a chalice. The reverse is based on a design by Sebastian Dadler. Ralph W. Klein was a pastoral intern at St. Matthew's, 1960-1961.
Bibliography
Brozatus, Klaus-Peter. Refomatio in Nummis. Osnabrück: Künker, 2015
Schnell, Hugo. Martin Luther und die Reformation auf Münzen und Medaillen. München: Klinkhardt & Biermann, 1983.
Martin Luther und die Reformation auf Münzen und Medaillen. Collection of Robert B. Whiting. April 1983.
The Story of Martin Luther and the Reformation as Told by the Coin, Medal, Jetton Collection of Miss H. E. Zak. September 1979.
Smith, Thurman L. Coins and Medals of the Reformation: A Select Bibliography. Sixteenth Century Bibliography 32. St. Louis: Center for Reformation Research, 1995.
ä ü  ö