All Items are arranged alphabetically by titles.
A – C
Apparatus Historico Criticus Sacri Codicis et Gentis Hebraeae. By Johannes Gottlob Carpzov (1697-1767). Leipzig, 1748.
Case 1 shelf 2

Biblia cum concordantiis veteris et novi testamenti et sacrorum canonum. Lyon Gothic Bible. An edition of the Vulgate. 1520. Presented by Professor Robert Tobias and his wife Trudy on October 31, 2006. Many small woodcuts throughout the volume. Case 2 shelf 1
Biblia Das ist die gantze Heylige Schrift. 1620. Dinges Family Bible. Saved by a member of the family when Worms, Germany, was sacked in the third Robber War of Louis XIV. Case 7 shelf 4
Biblia, that is the entire Holy Scriptures of the Old and New Testaments, according to the translation and with the prefaces and marginal comments of Dr. Martin Luther, with new prefaces, summaries, wide-ranging parallels, notations, and spiritual applications, also prayers for every chapter.  In addition, also added are necessary indexes and a harmony of the New Testament. Completed under the oversight and direction of Christoph Matthäus Pfaff (1686-1760), doctor of Holy Scripture, Professor, Chancellor and Probst at Tübingen. Tübingen: Cotta, 1729. This book, despite the title page, contains only the Old Testament and the Apocrypha. Given in the name of the Rev. Harry A. Timm (1907-1980) by his son, the Rev. Lowell Timm. Case 1 Shelf 4
Biblia Hebraica. Secundum ultimam editionem Jos. Athiae. Edited by Everado Van der Hooght. Tom 1 Genesis-2 Kings; Tom 2 Isaiah-2 Chronicles. Philadelphia, 1814. This Bible is unpointed. It is the first Hebrew Bible printed in the United States. Case 4 shelf 4
Biblia interprete Sebastiano Castalione. Basel, 1556. Sebastian Castellio (1513-1563) was an associate of Calvin, but differed from him on many doctrines and opposed the execution of Servetus. His Latin aimed at classical eloquence, but the Reformers in Switzerland claimed that his Latin translation was blasphemous because it put Christian truth into pagan idiom. The translation was dedicated to Edward VI of England. After Castellio's death, his enemies unearthed the body and burned it. Case 2 shelf 1
Biblia Sacra. Latin Bible translated into English by Immanuel Tremellio and Theodore Beza. London, 1640. Case 1 shelf 2

Biblia Sacrosanta Testamenti Veteris & Novi. Zurich: C. Froschover, 1543. Translation of OT begun by Leo Juda, who died in 1542. The remainder of the OT done by Theodorus Bibliander.The translation of the NT was a revision of Erasmus by Rudolf Gualther (1519-1586), who provided summaries of all the chapters in Latin verse. This Bible was edited by Conrad Pellican (1487-1556). Job-Song of Songs placed after Malachi. Case 2 shelf 1
Biblia, thet är, Helga Skrifft. 1766. Reprint of 1703 edition. Swedish Bible. Case 1 shelf 4
Biblia Vulgata. 1682. Case 1 shelf 3
Codex Syriaco-Hexaplaris Ambrosiano-Mediolanensis. Edited by Matthew Norberg. London: Berling, 1787. Contains text of Jeremiah and Ezekiel. Case 1 shelf 2
F – M
Facsimile of the Washington Manuscript of Deuteronomy and Joshua in the Freer Collection. With an Introduction by Henry A. Sanders. Ann Arbor: University of Michigan, 2910. From the library of L. Franklin Gruber. Early 5th century manuscript. Case 1 shelf 5
Die Heilige Schrift Altes und Neues Testaments. Eight volumes in four. Berlenburg, 1726-1742. case 9 shelf 1
Libri Samuelis, Regum & Paralipomenon, ad Ebraicam Veritatem Recogniti, et Brevibus Commentariis Explicati. Leipzig, 1569. Translation made by Victorino Strigelio (1524-1569). Strigel was a Melanchthonian Lutheran who was imprisoned in 1569 for opposing the Konfutationsbuch. Flacius was an opponent of Strigelio. Case 2 shelf 1
Manuale Novi Testamenti. By Georg Pasor. 1849. Greek Latin dictionary. Pasor lived 1570-1637. The book was once owned by Martin Stephan, the son of the discredited leader of the Saxon immigrants in Missouri. Case 1 shelf 3
N
Notae Criticae in Novum Testamentum Syriacum. By Aegidio Gutbirio. Hamburg, 1667. Case 1 shelf 2
Novum Iesu Christi Testamentum. Grece & Latine. Theodoro Beza interprete. v. 1 Matthew-Acts. 1590. Beza, 1519-1605, became the successor to John Calvin in 1564. Case 1 shelf 2
Novi Testamenti altera pars. Theodoro Beza. v. 2 Romans to Revelation. 1590. Beza published 9 editions and one posthumously in 1611. He used codexes Bezae and Claromontanus, but followed mostly the Textus Receptus. The translators of KJV used the 1588-1589 and 1598 revisions. Case 1 shelf 2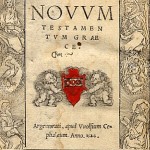 Novum Testamentum Graece. Argentorati (Strassburg), 1524. Metzger mentions thirty unauthorized reprints of Erasmus at Venice, Strasbourg, Basel, Paris, and other places. Gruber 3. Another copy from the Augustana Seminary Library. Case 1 shelf 2
 Novus Thesaurus Philologico-Criticus sive Lexicon in LXX….Edited by Joh. Frieder. Schleusner. Leipzig, 1820-1821. 5 volumes. Donated by Edgar Krentz. Case 9 shelf 3
V – W
Vetus Testamentum. Edited by Lambertus Bos. 1709. This copy of the Septuagint was donated to the LSTC Rare Books Collection by Dr. Kenneth W. Johnson. Case 8 shelf 1
Vetus Testamentum Graecum. Edited according to the Vatican Manuscript. London, 1653. Case 8 shelf 1
Walton's Polyglot of the New Testament. 1655 or 1657. Walton was consecrated bishop of Chester in 1660. Vol. 5 only. The Greek text follows Stephanus' edition with interlinear Latin translation by B. Arias Montanus. Variant readings are supplied from Codex Alexandrinus.Other translations included are: the Latin Vulgate, the Syriac with a Latin translation; the Arabic with a Latin translation; the Ethiopic with a Latin translation; and, in the Gospels, the Persian with a Latin translation. Archbishop Ussher provided the Syriac for the pericope dealing with the woman taken in adultery (John 7:53-8:11). Case 1 shelf 3
Reference Materials
All Case 1 shelf 2
The Greek Manuscripts of the New Testament at Mount Sinai. By William Henry Paine Hatech. 1932.
The Greek Manuscripts of the New Testament in Jerusalem. By William Henry Paine Hatch. 1934.
Textkritik des Neuen Testamentes. By Caspar Rene Gregory. Leipzig: J. C. Hinrichs'sche Buchhandlung, 1909. Donated by Edgar Krentz.
ä ü ö